PAMPACHIRI STONE FOREST AND HOUSE OF THE PITUFOS
Andahuaylas • Pampachiri • Thermal Baths of Larcay • Pampachiri • House of the Smurfs • Stone Forrest • Andahuaylas
3 D / 2 N
Have you ever thought about where the Smurfs actually live?
Did you know that the village of the Smurfs is located in Peru? Pampachiri is the home of this legendary place. In its immediate vicinity there is an unreal rock forest which, with a great view of the landscape of this region, has become an interesting destination for fans of the Smurfs who like to combine this with nature.
We have visited it for you, the small estate of the Smurfs in the middle of the Andes at an altitude of 3,362m above sea level. For the excursion here you should plan a whole day.
The Stone Forest of Pampachiri
These conical rock formations rise up to about 5 metres and offer an overwhelming view. Over the years, the wind and rain have paved the way for these formations, giving them a variety of silhouettes, which could also be from the magma of the nearby Qarwarasu and Sotaya volcanoes.
Program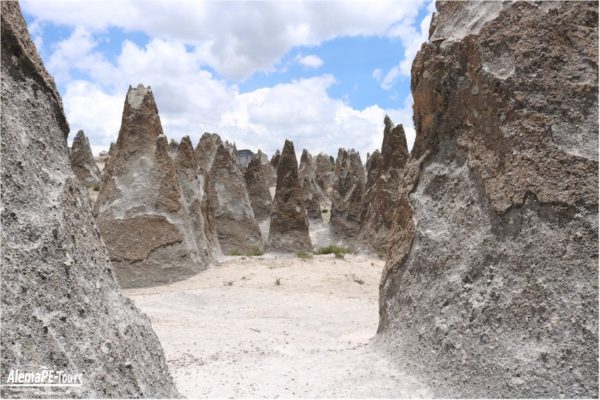 Price
Please contact us to get the price of this tour.
Included
Transfers station - hotel - station.
2 nights accommodation in Andahuaylas.
2 continental breakfasts.
Entree fees.
Trips mentioned in the program.
Guide in Spanish.