LIMA 4 CULINARY STYLES
Lima
3 D / 2 N
… / LIMA

Welcome to Peru!
Arrival at the Lima airport, assistance from one of our representatives at the airport.
Then transfer to the hotel, located in the residential district of Miraflores.
Hotel check-in is at 3:00 pm after which you'll be able to rest up and sleep if needed.

1st Culinary Style:
Fish & Seafood, later in the evening you'll be taken to the "Restaurant Cala". Located along Lima's famous seafront. Cala offers up an elegant approach to Peruvian gastronomy and cocktails; traditional recipes reinterpreted with fine ingredients and preparation techniques that place value on the originality of their intense flavors. In Cala you can enjoy the best of seafood cuisine with their fantastic ceviches, grilled octopus, crunchy calamari, tiraditos (raw fish Peruvian style of sashimi and carpaccio presented in different spicy and or creamy sauces), jaleas (various plates of deep-fried in a tempura style fish and seafood), and prawns. If this calls for a toast, their bar includes some of the best macerated fruit liqueurs and Peruvian piscos around.
Return to the Hotel.

Services: Overnight. (D)
Height: Lima: 154 masl

LIMA

Breakfast in the hotel.
We'll leave the hotel in the morning in route to one of the local markets in downtown Lima; this will allow you to see and learn about the great variety of native products, as well as the "idiosyncrasies" of the people and lively culture of the city. We'll visit Barrio Chino (China Town) and the Central Market, Capón street, known as the heart of "Barrio Chino", was the place where limeños first came into contact with Chinese culture and cuisine, as well as their religious, philosophical and traditional medicine practices. Capón street and its neighbor, the Central Market are the two points in Lima where the people dedicate their lives to doing what they do best, negotiate and cook.
Return to the hotel.

2nd Culinary Style:
Chifa (Chinese and Peruvian fusion), in the afternoon we'll leave for "Restaurant Madam Tusan". In the early 40's the great banquets of Chinese food began a culinary fusion today known as Chifa. The recipes arriving from the East took on new forms and flavors when met with the diversity of Peruvian ingredients. This unique style is exalted in the elegant and majestic atmosphere of Madam Tusan, created by world renowned chef Gastón Acuario.

3rd Culinary Style:
Nikei (Japanese and Peruvian fusion), in the evening we'll head out to the "Restaurant Ikedo", the best way to learn about the fine Japanese culinary tradition, a true emblem of Japanese gastronomy in Lima. This restaurant puts his impeccable touch on each dish, along with demanding care in the selection of the freshest seafood available, all of which has made his kitchen legendary. A must-visit on any gourmet tour of Lima, as it maintains its status as a true force in Nikei gastronomy.
Return to the hotel.

Services: Overnight. (B, L, D)
Height: Lima: 154 masl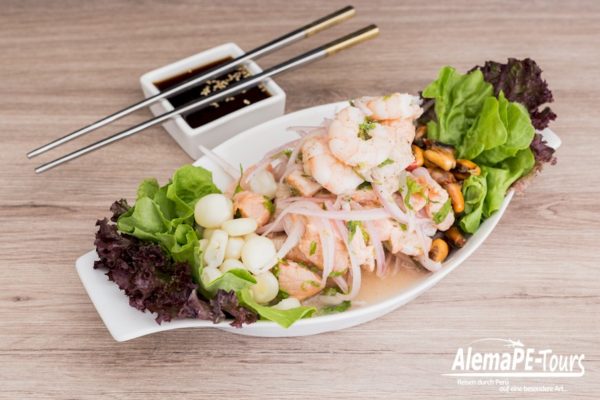 LIMA

Breakfast at hotel.
Check-out at the indicated time, after which we'll head out to the restaurant.

4th Culinary Style:
Novandina (fusion of modern recipes with Andean products) arriving at the "Restaurant Malabar". The Peruvian ingredients are the protagonists in the menu of dishes here. The man responsible for this illustrious display of culinary art at Malabar is the renowned chef Pedro Miguel Schiaffino, sometimes referred to as the "jungle chef". His kitchen represents a spontaneity where the unusual never ceases to surprise the visitor. He prefers to work with unconventional ingredients, which highlight his techniques of haute cuisine. In this fashion, he seeks to connect the guests with the diverse stories and experiences of Peruvian culture.
After lunch, you will be taken to the airport for your international flight.

Services: (B, L)
Height: Lima: 154 masl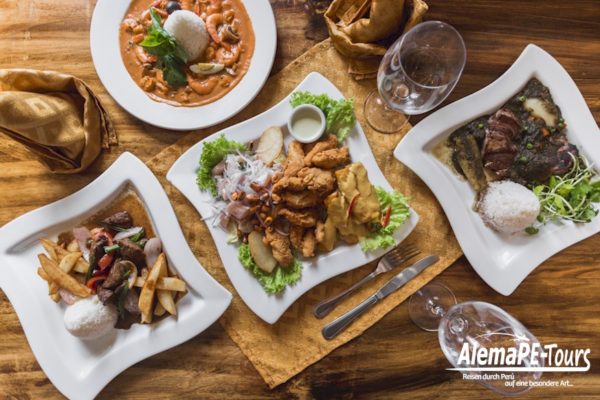 Price
Please contact us to get the price of this tour.
Included
Transportation in Lima.
2 Nights of lodging + breakfast.
Half day Tour of the popular markets.
Lunch and Dinners with transportation to and from the mentioned restaurants.
Meals mentioned in the itinerary.
Personalized Assistance.
Not included
Air tickets national and international.
Travel insurance.
Overweight in Luggage.
Tips.
Alcoholic and non alcoholic drinks.
Not specified meal.
Personal charges.
Other not specified.