The Rainbow Mountain or Vinicunca is one of the most popular attractions in Cusco due to the variety of tones that cover it, but how did that happen? According to a report from the Cultural Landscape Office of the Decentralized Department of Culture, its appearance is due to "a complex geological history of marine, lacustrine and river sediments".
Over time, the waste that covers it formed layers (with different grain sizes) that today are seen as the fringes that attract tourists so much.
"The mountains were formed due to the movement of the tectonic plates of the place and their colors were born because of the oxidation of their minerals, exerted by the humidity of the area and the erosion of the same," César Muñoz, member of the Geological Society of Peru (SGP) told BBC.
Muñoz and the study of the Cultural Landscape Office detail the composition of each strip according to its color.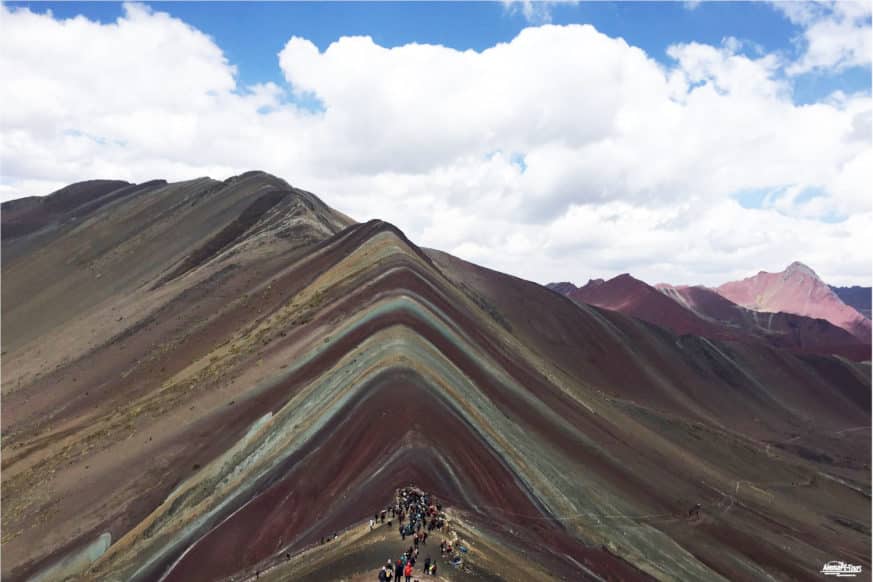 Pink or fuchsia: mixture of red clay, fangolitas (mud) and sand.
White: sandstone (quartz sand) and limestone.
Purple or lavender: marga (mixture of clay and calcium carbonate) and silicates.
Red: argillites and clays.
Green: clays rich in ferro magnesia (mixture of iron and magnesium) and copper oxide.
Yellowish brown, mustard or golden: limonites, calcareous sandstones rich in sulfur minerals (combined with sulfur).
Source: Andina