Plus Ultra would resume flights between Madrid and Lima from December 7
The Spanish airline Plus Ultra has stated that it is ready to resume direct flights between Madrid and Lima, as soon as the government authorities allow it. However, the company already has a probable date for the resumption of these operations, since it has enabled the reservations on its website from Monday December 7, 2020.
According to the itinerary that appears on its official website: www.plusultra.com, the Madrid – Lima route and vice versa is scheduled to operate from next December 7, with a weekly frequency (every Monday). The outbound flight will leave the Spanish capital at 11:00 a.m. and the return flight will leave Lima at 7:30 p.m. (in both cases local time).
This news has also been recently shared by the portal Torre El Dorado, specialized in aviation, highlighting that Plus Ultra is preparing the return of its flights between Madrid and Lima, after several months of suspension due to the closing of borders due to the Covid-19.
"The airline has in its agenda to resume operations at the Jorge Chávez International Airport in Lima from the Adolfo Suárez/Barajas International Airport in Madrid, starting on Monday, December 7, 2020 with one flight a week (Monday)", indicated the Colombian media. He said that the itinerary of Plus Ultra's return to Peru is as follows:

In this regard, Turiweb inquired at Plus Ultra's website and was able to corroborate that the reservation of air tickets between both destinations is already enabled for flights starting next Monday, December 7th, as can be seen in the following images: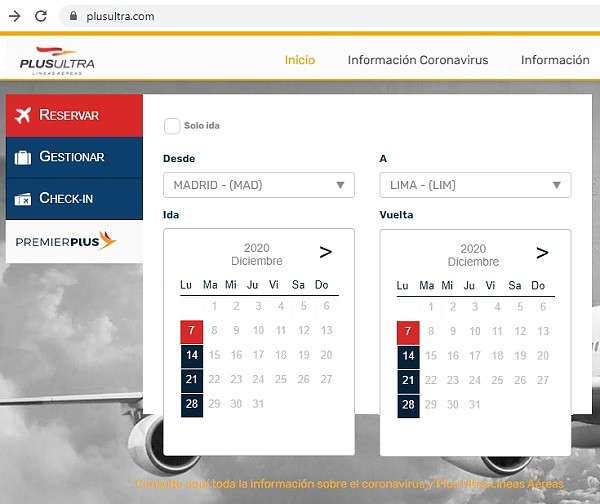 Source: Touriweb, Plus Ultra