Everything about health
Water
We advise you to prevent diarrheal illnesses only to boil the tap water (for example as tea) and to drink bottled mineral water. When making purchases, please ensure that the cap is undamaged. You should also refrain from using ice cubes in beverages unless you are certain that they have been prepared with purified water. Food should be freshly cooked and fruits peeled enjoy.
Sun and sunscreen
Do not underestimate the tropical sun! Especially in the higher regions of Peru the UV exposure is very high. Therefore, ensure sufficient sun protection through clothing (long clothing, sunglasses *, We use on this page Amazon Affiliate Links: The click does not cost you a penny, but you support us with a small commission. Thank you., Sun hat * or baseball cap * ) and sunscreen with high sun protection factor 50 *.
Do not underestimate the tropical sun! Especially in the higher regions of Peru the UV exposure is very high. Therefore, ensure sufficient sun protection through clothing (long clothing, Sunglasses *, Sunhat * or Basecap *)  and Sunscreens with high SPF, e.g. 50 *.
Note about altitude sickness
On our tours of Peru we reach heights of over 3,800m as well as 5,000m. The high altitude air is oxygen poor and of lower atmospheric pressure, which is why at altitude from 2,500m symptoms of altitude sickness such. Headache, dizziness and nausea can show. Although the itinerary provides for a slower height adjustment, traveling through Peru requires good health as well as a good basic condition. All travelers interested in cardiovascular problems are urgently advised by the family doctor, who should then inform you about possible preventive measures. Sorochipills are best bought directly in Lima because they are a lot more expensive outside.
Medical care on site
Although in the eyes of some people Peru is still one of the so-called "developing countries", hygiene and health standards are relatively high. Incidentally, Peru has lost this status for several years. Especially in large cities like Lima, medical care meets European standards. In rural areas, other technical and hygienic conditions prevail. In large, private hospitals, medication and possibly necessary medical treatment are usually paid directly in cash (or credit card) and on the spot. Please inform your travel agent or counseling center before your trip. We also recommend in principle the conclusion of a travel health insurance (for example Envivas health insurance or HanseMerkur travel insurance AG).
Vaccinations
For European travelers, no vaccinations are currently required. Please check whether the usual vaccinations such as polio, tetanus and possibly typhus have not yet lost their effectiveness. In addition, hepatitis A and B are recommended for longer stays in the northern regions (Federal Foreign Office of Germany).
In principle, the entry of a Yellow Fever vaccination certificate may be required upon entry by all travelers older than 12 months. However, legal and administrative practice do not always agree.
Dengue fever is an initially flu-like illness that is transmitted by mosquito bites. Since there is no vaccine against dengue fever, it is recommended to wear protective clothing (long pants, long-sleeved shirts) and always protect feet and ankles. We also recommend using an insect repellent (for example Autan * or OFF * or similar *).
Both dengue and malaria occur again and again in tropical countries. Here, the above-mentioned prevention measures must be observed. However, the areas visited on our tour are usually considered malaria free and dengue free.
We strongly recommend that you get in touch with your doctor or a travel specialist in good time before you leave to find out about appropriate vaccinations or risks of other infectious diseases (eg malaria, yellow fever etc.) and, if necessary, further vaccination protection or prophylactic measures take.
Vaccination certificate – Do you have all the necessary travel vaccinations? If you are not sure, read our Travel Vaccinations article. You need the vaccination passport in many countries to prove that you have been vaccinated against certain diseases.
Here is a list of german health insurances that tells, what they take on vaccinations.
Current note about the Zika virus
There are currently several cases of Zika virus in Latin America that are closely related to the causative agent of dengue fever. Since there is no vaccine with this virus and the transmission takes place exclusively via mosquitoes, care should be taken to wear protective clothing, such as long pants and long-sleeved tops. In addition, we recommend applying insect repellent (for example, Autan * or OFF * or similar *).
Travel pharmacy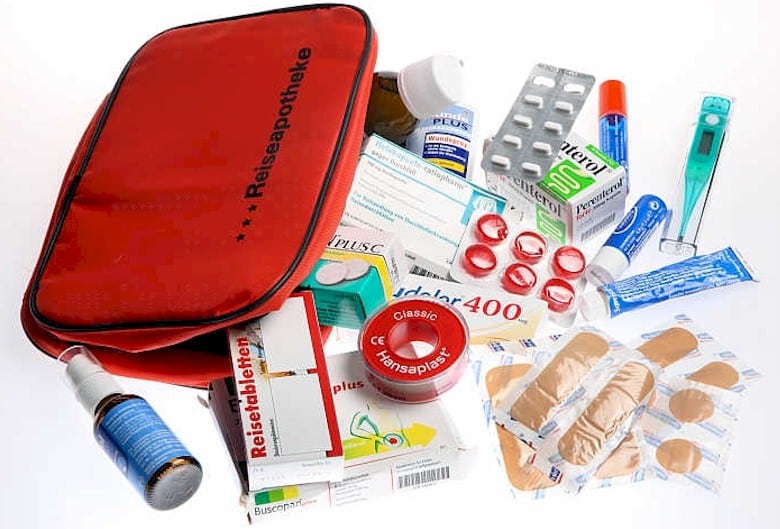 If you need to take medication on a regular basis, you should take a sufficient supply of it. Your first-aid kit should also be equipped with medicines you can use for diarrhea (Charcoal tablets *, Eubiol * and Elotrans *), travel sickness (for eg. Reisegold *), abdominal pain or intestinal spasms (for eg., Buscopan), flatulence (eg, Espumisan *), fever (for eg. ASS *), pain (for eg. Paracetamol *) and wound disinfectants *, wound ointment (for eg. Bepanthen *, Insect and Sunblocker *, Sointment for insect bites * or other skin irritations (for eg. Feinistil *), Clinical thermometer * and bandages (for eg. Leucotape * and Gauze *), (Plaster * and Blister plaster *) are sufficiently prepared.
Disclaimer:
Please note that this post may contain affiliate links (marked with *). We get a small commission if you buy something via one of these links. There are no additional costs. We do not recommend anything that we do not find ourselves good and also in use or had. We hope our reports, tips and tricks help you with your own selection. You can support us by buying through these links. If you have questions or suggestions, write us. We are happy to answer any question.