Almost 400 passengers were transported yesterday by Air Force (FAP) planes from Lima to Arequipa, after commercial flights were suspended due to the declaration of the State of National Emergency, informed the Minister of Defense, Walter Martos Ruíz.
He said that the measure was ordered by the President of the Republic, Martin Vizcarra, because there were a number of passengers who were stranded due to weather conditions and who needed to travel to Arequipa.
Thus, in the Air Group No. 8, the Minister of Defense supervised the departure of the first support flight, of three that implemented the FAP to the city of Blanca to transfer almost 400 passengers who had been stranded due to weather conditions in the Peruvian capital.
The first humanitarian flight took place yesterday at noon in a Boeing 737-200 of the FAP that transported 110 passengers, prior to a check-up by the medical specialists of the Ministry of Health, who proceeded with the necessary discards such as taking the temperature before boarding.
The second flight was made in a FAP Hercules plane with 80 passengers; and the third was made in a FAP Boeing 737-200 with 100 passengers. As it is known, these passengers were stranded in Lima after their flights were suspended due to bad weather, before the deadline decreed by the government regarding the closure of airports and the cancellation of national and international flights.
Earlier today, Lima Airport Partners (LAP) announced the departure of a new humanitarian flight to Arequipa "only for people who previously missed their flights due to weather conditions. These are duly registered and listed".
As for the 400 passengers stranded in Mexico and another 60 in Brazil, who asked the Peruvian authorities for an 'airlift' to return to Peru, Defense Minister Walter Martos preferred not to use this term because this help will not be repeated in other cases, just once.
The Public Relations office of the 3rd Air Wing in Arequipa, indicated that since 08:30 hours a Boeing of the Peruvian Air Force (FAP) with 90 travelers, an Antonov of the FAP with 45 people, and another of the Army with 45 more, left.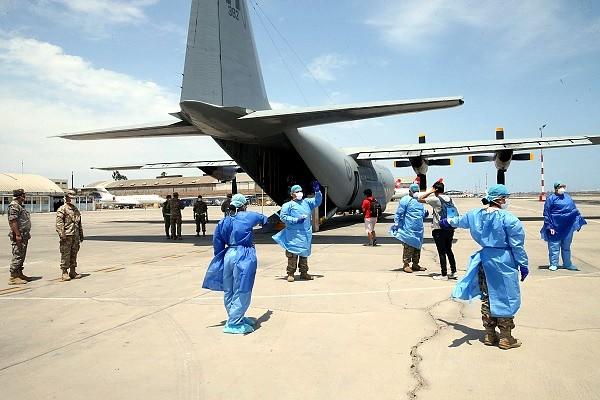 Source: Turiweb